Account Based Marketing Approach
In Account-Based Marketing, everything starts with developing a list of Best Fit Accounts (BFAs).
When deciding who to target, you also determine who not to target.
If you get your BFAs right, you save time and effort.
Data is the fuel that runs your ABM programs, the foundation for every campaign decision, and the most important factor driving your ABM strategy.
The ABM process depends on a solid BFA list. The more insight you can gather and the more you can augment your list with additional data, the more successful your programs will be.
Scaling your ABM program happens when you successfully integrate first-party and third-party data. ABM is a data-driven strategy. Any data that can add value is highly appreciated.
The more time you spend upfront ensuring quality data, the more success you are guaranteed.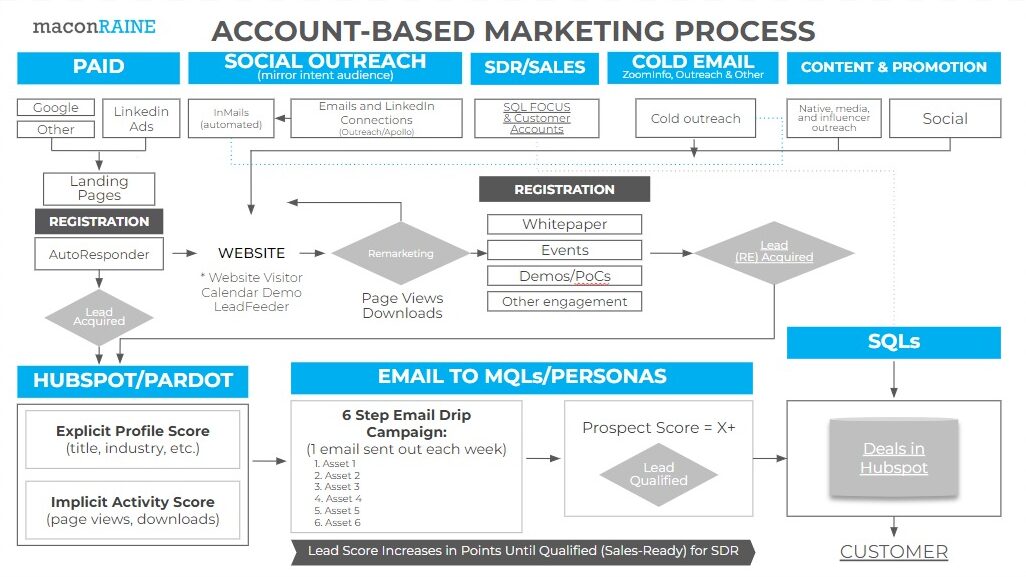 Download the Account-Based Marketing Process
FIRST PARTY DATA
Your in-house data is the start of your list-building process. Who is your best customer, and what motivates them to buy? Who are the decision-makers? This data needs to be complete and accurate. You can scrub this data internally or work with a service to enhance your list.
Once your ICP is defined, the identification of target accounts becomes easier. While moving ahead with ABM, third-party data helps identify new accounts and expand the list of prospects. Choosing a third-party data provider is challenging as B2B marketers need to analyze the source closely and determine whether the data is validated.
INTENT DATA
Third-party intent provides signals about who may be in the market for your solutions and services. The data collected about web users' observed behavior – specifically web content consumption – provides insights into their interests.
This insight often indicates potential intent to take a specific action by understanding who might be inching closer to a buying decision.
ENGAGEMENT
ABM is all about finding ways to engage with buyers earlier in the journey. You adopt ABM tactics to reach the right customers earlier in their purchase process. Without buyer insights, ABM efforts fall flat.
Buyer insights and personas are the foundations of your engagement strategies; they define your content and messaging strategy. In turn, your SEO, email and nurture programs, and outbound approach fall into line.
The Handoff
In traditional marketing scenarios, marketing hands-off leads to the SDRs who qualify, then hand-off to the Sales Execs to close.
In ABM, the model is a bit different – it shifts from linear to real-time collaboration.
Prospecting becomes easier because you are focused on fewer accounts. However, the risk is greater if your BFA is remotely off.
This is why sales and marketing must be connected at the hip. This collaboration often requires a complete rethinking of many processes and routines. It may even require changing responsibilities and job roles.
ABM works when sales and marketing work together. The problem is that building alignment takes time and change. No one likes change, especially if it impacts their compensation structure. Building alignment takes time, so start small and grow from positive results. As you grow and can show success, changing behavior will be easier.
Optimization – wash, rinse, then repeat
AMB takes work. You can compress the time to get really good at it with disciplined effort, but it still takes time (and work).
An ABM roadmap is built on a series of 60-day sprints over a 12-month period. Each sprint is designed to improve the results of the previous sprint. Optimization in real-time means the team gets more experience understanding the different data inputs and signals so that they adapt faster or better with messaging, ads, and other actions.
Routines, tasks, and actions as just as important as the various creative and messaging.
ABM (Always Be Measuring)
Measurement is even more important in ABM than in traditional B2B marketing.
ABM allows measurement at a much deeper level than traditional marketing.
Your KPIs become far more strategic.
From funnel velocity, average deal size, and close rates, ABM gives you deeper insight into revenue performance as a better predictor of future success.
As you design your ABM process, consider your measurement process as a living, breathing thing – capable of change and evolution.
Start simple, and over time, add more sophisticated measures.
Important measures to consider:
Close rates
Deal size
Funnel velocity
Marketing Performance
BFA engagement
BFA penetration
Cost per opportunity
Campaign and Web
Web site visits
Downloads
Time on site
Email open rates